Kosara K. Cvetković
1868–1953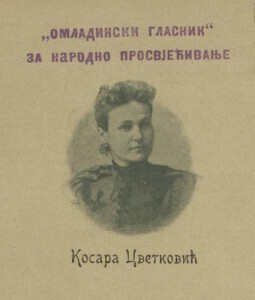 | | |
| --- | --- |
| Date of birth | February 27, 1868 |
| Date of death | January 28, 1953 |
| Web address | |
Personal situation
Kosara Cvetković was born in Gornji Milanovac in 1868. She finished Higher School for Girls in Belgrade successfully, and although she was able to remain an assistant in that school, she decided to leave for the countryside. After several years, she came first to Kragujevac, and then to Belgrade as a teacher of the Higher School for Girls. She taught geography and drawing and then devoted herself exclusively to drawing. As an engineer, she had been doing this hard work for many years.
Information about Kosara K. Cvetković taken from the work of Olivera Nedeljković Kosara K. Cvetković - Život preveden u knjige (Kosara K. Cvetković - Life Converted to Books)
| | |
| --- | --- |
| Place of birth | Gornji Milanovac |
| Place(s) of residence | Serbia |
| Nationality | Serbian |
| First language(s) | Serbian |
| Marital status | Single |
| Social class | Upper class |
| Education | University education |
| Religion | Eastern orthodox |
Professional situation
In addition to many articles, essays, causeries, and poems in all of the more respected magazines of that time, she was among the first women writers to engage in literature for children in our country. She sent articles and drawings for Neven. In 1907, she published a collection of short stories Pripovetke za dečake i devojčice (Short Stories for Boys and Girls) translated from Russian. She also published another collection under the same title in 1911. Both books were accepted among students as their favorite reading. The main characteristic of her work as a teacher and a writer is sophisticated aestheticism. She had evocative feelings for everything that is beautiful and cultural, which is also recognized in her art of painting. When the play of Maud Allan, performed in Belgrade in 1906, was met by only negative criticism in our newspapers, Cvetković wrote in Štampa: "A sophisticated representation of Miss Alan's play, which is an expression of the real interest in the new branch of art."
She wrote a report on the fiftieth anniversary of the Higher School for Women in Belgrade (1863-1913) based on the archive of the school and various reports from other schools.
Source:
Maga Magazinović, "Srpkinja", Irig: Dobrotvorna zadruga Srpkinja, 1913.
Written by Nena A. Vasojević
Translated by Marija Bulatović
| | |
| --- | --- |
| Profession(s) and other activities | Painter, translator, contributor to periodical press, writer for children, fiction writer/novelist, and teacher/governess |
Works by this author
Monographs
Articles and other similar texts
Translations
Reception
Reception during lifetime
Reception after death
Authors read by this author
* Only authors in Knjiženstvo DB are shown