Jelica Belović Bernadžikovska
1870–1946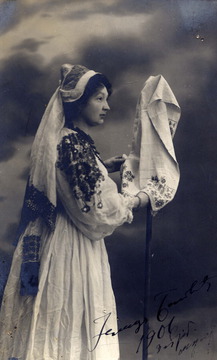 | | |
| --- | --- |
| Pseudonyms | Ljuba T. Daničić, Jelica, Jele, Jasna, Hele, teta Jelica, Mlada gospoja Ana, Bianca, B., Bianche, Bianchi, Bianka |
| Spouse | Janko Bernadzikowski |
| Date of birth | February 25, 1870 |
| Date of death | June 30, 1946 |
| Web address | |
Personal situation
Jelica Belović-Bernadzikowska, ethnographer, teacher and writer, was born in 1870 in Osijek, nowadays Croatia, then Austria-Hungary. Her father was Serbian, her mother German, and  she was married to a Polish official. Her main political idea was the union of Croats and Serbs, and this resulted in her being frequently maltreated by the representatives of Austro-Hungarian administration. Her life, however, did not get any better after World War I when Yugoslavia, or the Kingdom of Serbs, Croats and Slovenians, was constituted. Belović-Bernadzikowska lost both her husband and her house during the war, and, in spite of having all these cultural accomplishments, lived with her son in poverty. Her work was much better acknowledged and praised outside her country than at home.
| | |
| --- | --- |
| Place of birth | Osijek |
| Place(s) of residence | Austria, Bosnia and Herzegovina, Croatia, France, and Serbia |
| Place of death | Novi Sad |
| Nationality | Croatian |
| First language(s) | German and Serbian |
| Marital status | Divorced |
| Number of children | 1 |
| Gender of children | M |
| Education | School education |
Professional situation
She was educated in Osijek, Đakovo, Zagreb, Vienna, Paris, and worked as a teacher in Zagreb, Ruma, Osijek, Mostar, and Sarajevo. All her public work was aimed at the affirmation of the culture of Southern Slavs and, especially, women's efforts. After 1918, when the Kingdom of  Serbs, Croats and Slovenes (as of 1929 - the Kingdom of Yugoslavia) was formed, she lived in Bosnia, Croatia and Serbia. Belović-Bernadzikowska published works of fiction, as well as research works and essays on embroidery, education, culture, psychology, and pedagogy in Serbian, Croatian and German. In her own autobiographical text from 1936, she noted that she had written 48 books. In addition to that, there is a great number of articles she authored. The most renowned is her cooperation with the famous folklorist and  sexologist, Friedrich Salomo Krauss, in his yearly magazine Anthropophyteia (published in Leipzig 1904-1913). Jelica Belović-Bernadzikowska established or helped to establish ethnographic museums and exhibitions in Zagreb, Vienna, Belgrade, Prague… Her famous book, written in German, Die Sitten der Südslawen (The Cultural History of the South Slavs) was published in Dresden in 1927. 
Dr Tihomir Ostojić (1865- 1921), historian, praised her work by comparing it to the canonical and iconical figures of Serbian science and art, Jovan Cvijić and Vuk Karadžić.
| | |
| --- | --- |
| Profession(s) and other activities | ethnographer, editor of periodical press, scientist, literary critic, contributor to periodical press, and teacher/governess |
| Language(s) in which she wrote | German and Serbian |
| Memberships | Of editorial boards |
Works by this author
Monographs
Articles and other similar texts
Serial publications
Authors read by this author
* Only authors in Knjiženstvo DB are shown