Danica Bandić Telečki
1871–1950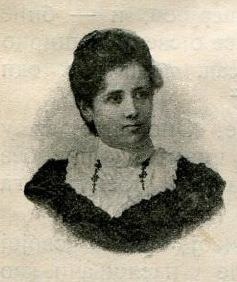 | | |
| --- | --- |
| Spouse | Miloš Bandić |
| Date of birth | September 30, 1871 |
| Date of death | October 26, 1950 |
| Web address | |
Personal situation
September 30, 1871 – Danica was born in Zagreb, fathered by actor and playwright Laza Telečki. He used to be a member of the Serbian National Theatre in Novi Sad and he translated approximately twenty plays into Serbian. Laza died when Danica was only nineteen months old. When she was eight, she was bereft of her mother as well, and her uncle took over the custody of her.
1877–1881 – She attended primary school in Zrenjanin and Velika Kikinda.
1881–1888 – Her uncle decided that she should pursue further education; she graduated from the Higher School for Women in Subotica, and the Higher School for Teachers in Sombor.
1888–1921 – At the age of seventeen she became a teacher in Kikinda, where she married Miloš Bandić, also a teacher.
1922 – After retiring, she moved to Belgrade with her husband.
1941 – Her husband dies.
October 26, 1950 – Danica dies in Belgrade.
| | |
| --- | --- |
| Place of birth | Zagreb |
| Place(s) of residence | Croatia and Serbia |
| Place of death | Beograd |
| Nationality | Serbian |
| First language(s) | Serbian |
| Marital status | widowed |
| Education | School education |
Professional situation
1892 – She began her literary work by publishing a short story "Silom u preparandiju" ("Forced to preschool") in the magazine Ženski svet (Women's World), where she would later continue to publish her work.
1895 – Matica srpska awarded a prize to her piece of writing Emancipovana (The Emancipated Girl), a comical one act play. 
1923 – She published her most distinguished story, "Tera baba kozliće" ("Granny Herds the Kids"), which was printed with illustrations by the famous painter Uroš Predić.
During her lifetime, she published approximately twenty anthologies of short stories and plays. Her first works aimed at an adult audience, but later she turned to writing children's books. Some of her theatre works were played at the Serbian National Theatre. Productions of her plays for children include: Oproštaj Sneška Belića (The Snowman's Farewell), Devojčica sa zlatnim rukama (The Girl with the Golden Hands), Vilinska priča (A Fairy story).
| | |
| --- | --- |
| Profession(s) and other activities | writer for children, playwright, fiction writer/novelist, and teacher/governess |
| Language(s) in which she wrote | Serbian |
| Financial aspects of her career | Stipend/allowance/pension and Salary |
Works by this author
Monographs
Articles and other similar texts
Translations
Reception
Reception during lifetime
Reception after death
Authors read by this author
* Only authors in Knjiženstvo DB are shown