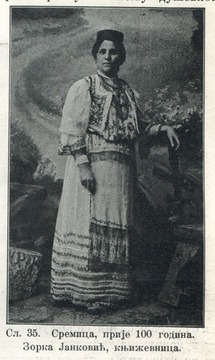 | | |
| --- | --- |
| Pseudonyms | Velikovecka Mira |
| Spouse | Aleksandar (Branko) Janković |
| Date of birth | 1870 |
| Date of death | 1933 |
| Journals | |
| Web address | |
Personal situation
Zorka Janković was probably born in 1870 in Berkasovo, near Šid. She moved to Golubac with her husband, Aleksandar (Branko) Janković. After his death, she went to Vojka, where she got a job at the post-office. She moved again, to Zemun, after the end of World War I. She died after 1933.
| | |
| --- | --- |
| Marital status | widowed |
| Education | School education |
Professional situation
Zorka Janković finished primary school, and, for a while, did community work with the Srpkinja Charity Collective from Golubac. In 1903, she published the first literary translation of Jovan Jovanović Zmaj's "Pesma o pesmi" ("Poem About a Poem"), in the Viennese Parlamentär. The rest of her literary work was published in the magazines Ženski svet (Women's World) and Brankovo kolo (Branko's Circle). Following the example of Savka Subotić, she recorded and studied folk traditions from Srem. She wrote 'folklorist sketches', which she would send to Sima Trojanović, who was, at the time, Head of the Ethnographic Museum in Belgrade.
In 1910, as a representative of "all Serbian lands", she participated in the organization of The Serbian Woman exhibition in Prague. She described her experience of working on the exhibition in her letters to Savka Subotić, which were published in June, that same year, in Brankovo kolo. She completed her drama Dečja duša (The Soul of Children), signed under the pen name Velikovecka Mira.
In 1911 (1913), Zorka Janković published a pamphlet, Žensko pitanje (The Woman Question), which dealt with the position of women in the "prehistoric, ancient, and modern era", focusing in particular on the "contemporary age" and encompassing the cultural, sociological and economic aspects of that position. In the Afterword (dated 1913), she gives a sketch of the female issue in the history of the Serbian people. In 1926, she published another work, Problem saveza (The Problem of Alliances), which dealt with the issue of networking and coordinating women's groups and movements. At the time, she was working as one of the secretaries of the Women's Community Board. This Board issued a book of regulations, Pravila Narodne ženske zajednice Kraljevine Srba, Hrvata i Slovenaca (Rules of the National Women's Community of the Kingdom of Serbs, Croats and Slovenes), in 1926. From 1928 to 1933, she edited, alongside Jovan Palavestra and Jelena Demajo, the Community's herald - Glas Narodne ženske zajednice (The Voice of the National Women's Community) - which was issued monthly in Belgrade.
| | |
| --- | --- |
| Profession(s) and other activities | editor of periodical press, translator, social-cultural activist, playwright, and fiction writer/novelist |
| Memberships | Of editorial boards |
Works by this author
Monographs
Articles and other similar texts
Reception
Reception during lifetime
Reception after death
Authors read by this author
* Only authors in Knjiženstvo DB are shown