Milica Stojadinović
1828–1878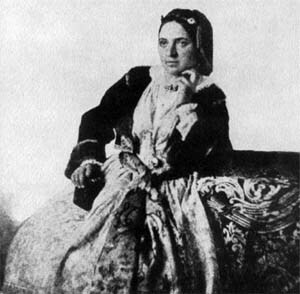 | | |
| --- | --- |
| Pseudonyms | Srpkinja |
| Date of birth | 1828 |
| Date of death | July 25, 1878 |
| Web address | |
Personal situation
Milica Stojadinović Srpkinja, "The Fairy from Vrdnik", was born in Bukovac, Srem (then in the Austrian Empire), somewhere around 1828, or 1830. In her youth, she became famous for her patriotic poetry, which was concerned with the national awakening. Her first poem, "Mladi Srbin" ("The Young Serb") was published in Srbski narodni list (Serbian National Journal) in 1845 in Pest. In 1848, she came into conflict with the Hungarian authorities due to censorship. Her first book of poems, Pesme (Poems), was published in 1850, and, later on, two expanded editions were issued in 1855, and 1869. She also published a journal entitled U Fruškoj gori 1854 (In Fruška Gora in 1854), in three volumes, issued in 1861, 1862, and 1866. She spoke and translated from German. Milica is also considered to be the first woman war correspondent, as she wrote a report about the bombing of Belgrade in 1862. She died in Belgrade (Serbia), in 1878, forgotten and in poverty.
| | |
| --- | --- |
| Place of birth | Bukovac, Srem |
| Place(s) of residence | Serbia |
| Place of death | Beograd |
| Nationality | Serbian |
| First language(s) | Serbian |
| Marital status | Single |
| Education | School education |
Professional situation
Poetess, writer and folklore collector, translator.
She spoke German, and probably Slovakian, and she also learned Italian and French.
She published her first poem in a magazine in Pest, in 1847. Her poems were later published in various magazines: Sedmica (Seven), Vojvođanka (Vojvodina Woman), Šumadinka (Šumadija Woman), Fruškogorka (Fruška Gora Woman), Danica, and, without signature, in Putnik (Traveler) and Komarac (Mosquito).
She traveled twice to Vienna (1851, 1954), and had meetings with Vuk Karadžić and his daughter Mina there. She had professional contact with some of the greatest Serbian poets of the time, like Petar II Petrović Njegoš, Ljubomir Nenadović, Đorđe Rajković. She also collaborated with Vuk Stefanović Karadžić, the central figure of Serbian culture in the 19th century. She gathered the folklore of Vojvodina for his books. In her journal, she mentiones oral singers, from whom she collected folk poetry: blind Jela, Pava, Kata, Ruža, Ana, and Anđelija. She published many of these folklore elements in her journal. She was a translator, too; she translated Goethe and Balzac. 
She was also a friend of the Austrian poet Ludwig August von Frankl.
Her most important works include:
Pesme (Poems), 1850. (first edition)
U Fruškoj gori 1854. (In Fruška Gora in 1854), 1861. (first edition)
Her diary had 433 subscribers in: Viena (200), Budim (20), Belgrade (84), Šabac (20), Vukovar (40), Karlovci (49), and Mitrovica (20).
| | |
| --- | --- |
| Profession(s) and other activities | poet |
| Language(s) in which she wrote | Serbian |
Works by this author
Monographs
Articles and other similar texts
Non-book materials/ Other material
Translations
Reception
Reception during lifetime
Reception after death
Authors read by this author
* Only authors in Knjiženstvo DB are shown