Danica Marković
1879–1932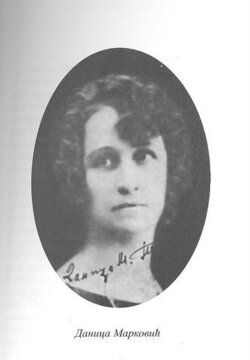 | | |
| --- | --- |
| Pseudonyms | Zvezdanka |
| Spouse | Momčilo Tatić |
| Date of birth | October 12, 1879 |
| Date of death | July 09, 1932 |
| Web address | |
Personal situation
Danica Marković was born in Čačak in 1879. After finishing high school for women, she studied Serbian language, literature and history, but was unable to graduate because of a lack of funding. She had to work as a teacher, even though she suffered from tuberculosis.
In 1904, she married a wealthy lawyer named Momčilo Tatić, with whom she had four daughters and two sons. Besides having to endure the bitterness of an unhappy marriage, she also had to bear the death of her firstborns, as well as to undergo a divorce in 1926.
In 1917, Danica Marković witnessed the uprising of Serbian people in Toplica and, later on, published her impressions about it. She was captured and even sentenced to death by the Bulgarian authorities because of her constant attempts to help the Serbian people. Thanks to Bulgarian poet Vazov, she was pardoned.
Plagued by tuberculosis and poverty, she passed away in 1932 in Belgrade.
| | |
| --- | --- |
| Place of birth | Čačak |
| Place(s) of residence | Serbia |
| Place of death | Beograd |
| Nationality | Serbian |
| First language(s) | Serbian |
| Marital status | Divorced |
| Number of children | 6 |
| Name(s) of children | Slobodan, Milica, Ljubica, Marica, Anđelija, Predrag |
| Gender of children | M (2) F (4) |
| Education | School education |
Professional situation
At the age of 18, Danica Marković wrote her first poem "Poslednje želje" ("Last Wishes"). The poem was published under her pseudonym Zvezdanka in the magazine Zvezda (The Star) in 1900. Two years later, her first story "Krst" ("The Cross") was published in the magazine Pokret (Movement).
In 1904, she financed the publication of her first collection of poems entitled Trenuci (Moments). The collection of 25 poems was welcomed by the critics, especially by Jovan Skerlić, who praised the "rare and daring" sincerity of the author.
In 1928 and 1930, Danica Marković published two larger collections of poems entitled Trenuci i raspoloženja (Moments and Moods). In 1929, two poems and several stories, including "Diplomatski podvig Mate Hadži-Matića" ("The Diplomatic Accomplishment of Mata Hadži-Matić"), "Epidemija" ("Epidemic"), and "U carskome Beču" ("Inside the Imperial Vienna") were published in the paper Politika.
Some of her poems were selected for publication in different anthologies, including the one edited by Bogdan Popović, where she was the only chosen woman writer. She was a laureate of the St. Sava medal for literature and the first woman writer who was awarded by the Royal Academy of Serbia.
Edited by Dunja Dušanić
Translated by Snežana Kalinić
| | |
| --- | --- |
| Profession(s) and other activities | poet and teacher/governess |
| Language(s) in which she wrote | Serbian |
| Financial aspects of her career | Stipend/allowance/pension and Salary |
Works by this author
Monographs
Articles and other similar texts
Reception
Reception during lifetime
Reception after death
Authors read by this author
* Only authors in Knjiženstvo DB are shown