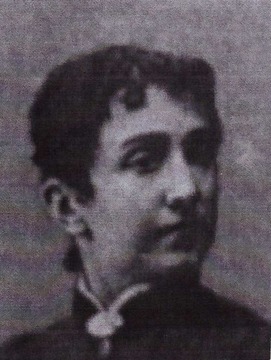 | | |
| --- | --- |
| Pseudonyms | Milka, Pavlovka |
| Date of birth | 1859 |
| Date of death | 1946 |
| Web address | |
Personal situation
Mileva Simić was born on February 15, 1859 in Novi Sad into a renowned family. Her father was the prominent academic painter Pavle Simić and her mother Jelisaveta was the daughter of Grigorije Jovišić, a lawyer who served as Mayor of Novi Sad. At the request of Marija Trandafil, Mileva's father Pavle Simić painted the iconostasis of Nikolajevska Church in the 1860s. The family moved often due to the nature of the father's vocation. In 1872/1873, the family was staying in Sombor since Pavle had been appointed to paint the iconostasis of Saint Đurđe's Church. Mileva was 12 at the time. She learned of the teacher's school and, as a keen learner from an early age, she expressed a desire to enroll in the school. Although she was too young to attend (since she finished elementary school at the age of eight, and girls' school at the age of twelve), with the help of Đ. Vukićević, a professor and religious teacher, she was allowed to become a student of Serbian School for Teachers in Sombor. After graduating with honors at the age of 15, she was chosen to work as a teacher at the newly founded Women's High School in Novi Sad. She worked there for 32 years and for a while she was the headmistress of the school. She never married. Two women influenced the formation of her attitude to life: Milica Stojadinović Srpkinja, an acquaintance of her father's, and Dafina Nana Natašović, her mother's sister, whose house was the stamping ground of Serbian intellectuals of the time. Mileva Simić was awarded the Order of King Alexander of the first degree; the almanac Srpkinja (The Serbian Woman), issued in 1913 by the Charitable Association of Serbian Women from Irig named her one of the four most important women associates of literary societies at the time and praised her as a reputable teacher. She was an honorary member of the charitable association Serbian Women from Novi Sad. She spent the final years of her life in a house at 10 Grčkoškolska Street. She was laid to rest in 1946 at Almaško Cemetery.
| | |
| --- | --- |
| Place of birth | Novi Sad |
| Place(s) of residence | Serbia |
| Place of death | Novi Sad |
| Nationality | Serbian |
| First language(s) | Serbian |
| Marital status | Single |
| Social class | Upper class |
| Education | University education |
Professional situation
Mileva started writing in 1876. She wrote Knjige za narod (Books for the People), published by Matica srpska, and a comic play Retka sreća (Rare Happiness), awarded by Matica srpska. She wrote two textbooks as well: Kućarstvo (Housekeeping) and Pedagogija (Pedagogy), which were used in high schools and teacher's schools for women. Mileva Simić also wrote for children. Her didactic short stories were published in children's magazines Neven (Marigold) and Spomenik (Monument). She wrote six plays for children. Three of them were published and two plays remained in handwriting. Mileva translated and wrote commentaries on the works of Mór Jókai, the Hungarian writer. Aside from her short stories such as Nada, Maksim Crnojević (Hope, Maksim Crnojević), Priviđenje (Phantasm), etc. the magazine Javor published her texts on Heinrich Heine and Jovan Klaić, the Serbian painter. 
She was a contributor to various magazines: Srpkinja (Cetinje), Javor (Novi Sad), Dubrovnik (Dubrovnik), Srpska zora (Mostar), Stražilovo (Novi Sad), Delo (Beograd), Branik (Novi Sad), Sloga (Sombor), Trgovačke novine (Novi Sad), Ženski svet, Kolo (Novi Sad); and various calendars: Trebević (Sarajevo), Ženski svet, Sloga, etc.
| | |
| --- | --- |
| Profession(s) and other activities | playwright, writer for children, fiction writer/novelist, teacher/governess, and translator |
Works by this author
Monographs
Articles and other similar texts
Translations
Reception
Reception during lifetime
Reception after death
Authors read by this author
* Only authors in Knjiženstvo DB are shown