Paulina Lebl Albala
1891–1967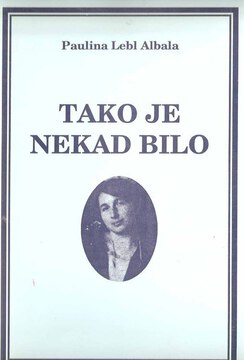 | | |
| --- | --- |
| Spouse | David Albala |
| Date of birth | August 09, 1891 |
| Date of death | October 08, 1967 |
| Journals | |
| Web address | |
Personal situation
She was born on August 9, 1891, in Belgrade, as the youngest child of Natalija and Simon Lebl, who worked as an engineer for a French company in charge of building railroads in Serbia. She had three sisters: Hermina, Jelena, and Ruža. 
She finished primary school and two years of secondary school in Niš.
1904–1906: She finished the third and the fourth grade of the Higher School for Girls in Belgrade. She attended the School for Teachers for a short while.
1906–1909: She attended and graduated from the First Grammar School for Girls, where she studied classical languages. She participated in the work of the literary group Nada (Hope). During 1906 and 1907, she published her first translations in the daily newspaper Politika (Politics).
1909: Her essay O čitanju (On Reading) was awarded and published. The same year she began studying architecture in Belgrade, but she dropped out in the first semester.
1909–1913: She studied Serbian and French literature at the Faculty of Philosophy in Belgrade. Since the end of 1913, she taught at the First Grammar School for Girls in Belgrade.
1917–1918: Paulina travels to Switzerland, settling afterwards in Belgrade. From 1919 to 1939, she lives in Belgrade.
1920: She became a teacher in the Second Grammar School for Girls and married the physician David Alba. She would have a daughter with him, named Jelena Alba Gojić.
1940: Paulina leaves for the United States of America. In 1942, she settles in New York.
1948: She travels to Israel with the first group of emigrants.
1951–1955: Lives in Rome, and later on in Canada.
October 8, 1967: Paulina Lebl Albala dies in Los Angeles.
| | |
| --- | --- |
| Place of birth | Beograd |
| Place(s) of residence | Italy, Serbia, Switzerland, United States of America, Israel, and Canada |
| Place of death | Los Anđeles |
| Nationality | Jewish |
| First language(s) | English and French |
| Marital status | Married |
| Number of children | 1 |
| Name(s) of children | Jelena Alba Gojić |
| Gender of children | F |
| Education | University education |
Professional situation
She published translations of works by Ida Boy Ed, Goethe, Ludwig Thoma, Barrès, Heine, Flaubert, and Oscar Wilde. She was a member of the organization Women's Movement, and co-editor of the eponymous magazine. She was the editor-in-chief of the magazine Glasnik Jugoslovenskog ženskog saveza (Yugoslavian Women's League Herald), and also president of the Association of University Women. She published many essays on literature and other topics, including articles on women and young women, reviews, stories, travel books, and translations in leading periodicals such as the Revue Yougoslave, Srpski književni glasnik (The Serbian Literary Herald), Letopis Matice srpske (The Chronicle of Matica Srpska), Politika (Politics), Književni jug (The Literary South), Žena danas (Woman Today), and many more. She edited several publications, among which Odabrane strane (Selected Pages) by Lj. P. Nenadović (1926); Misli (Thoughts) by B. Knežević (1931); Bilten Udruženja univerzitetski obrazovanih žena (Bulletin of the Association of University Women) (1931–1935); L'Oeuvre littéraire des femmes yougoslaves (1936), which she prefaced and wrote introductory notes to some of its chapters, as well as the sections regarding Serbian women authors; Monahinja Jefimija (Nun Jefimija) (1936), etc. From 1940 to 1942, while she was in the United States, she participated in the work of the Yugoslavian Information Center, collaborated with newspapers such as the Amerikanski srbobran (The American Defender of Serbs), Slobodna reč (The Free Word). Later on, she wrote for the Jewish Almanac and helped published the Bulletin of The Association of Yugoslav Jews in the United States (New York, 1961). In 2005, her autobiographical work, Tako je nekad bilo (That's How It Used to Be), was published in Serbia.
Edited by Dubravka Đurić
Translated by Dunja Dušanić
| | |
| --- | --- |
| Profession(s) and other activities | editor of periodical press, translator, journalist, literary critic, social-cultural activist, contributor to periodical press, travel writer, fiction writer/novelist, and teacher/governess |
| Language(s) in which she wrote | English, French, and Serbian |
| Memberships | Of editorial boards and Other |
Works by this author
Monographs
Articles and other similar texts
Reception
Reception during lifetime
Reception after death
Authors read by this author
* Only authors in Knjiženstvo DB are shown