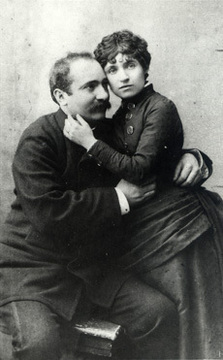 | | |
| --- | --- |
| Spouse | Jaša Tomić |
| Other names | Milica Miletić |
| Date of birth | November 30, 1859 |
| Date of death | November 24, 1944 |
| Web address | |
Personal situation
Born in Novi Sad in 1859, Milica was the daughter of Svetozar Miletić and Anka Milutinović. They had nine children together, out of which only two survived – the first, Milica, and the seventh, a son named Slavko. The period in which Milica grew up was characterized by vigorous struggles for national liberation. It is no wonder, therefore, that she was christened after Milica Stojadinović Srpkinja, whose poems were inspired by the idea of the Serbian state and the struggle for national liberation. On October 25, 1885, she married Jaša Tomić. They had no children. She died in 1944 in Belgrade.
| | |
| --- | --- |
| Place of birth | Novi Sad |
| Place(s) of residence | Serbia |
| Place of death | Beograd |
| Nationality | Serbian |
| Marital status | Married |
| Social class | Middle class |
| Education | School education |
Professional situation
Milica received her education in Novi Sad, Pest, and Vienna. She was fluent in four languages: Hungarian, German, French, and English. Prior to the incarceration of her father, which was a great blow to her family, she had been preparing for medical studies in Switzerland. Having to take on a part of his responsibilities, she was forced to give up medicine. She published her first literary works in the German magazine Gartenlaube.
There were two persons who influenced her life seminally: her father, Svetozar Miletić, leader of the Serbian national liberal party, founder and editor of the paper Zastava (The Flag), and her husband, Jaša Tomić, a Serbian journalist, politician and writer.  Very early on, thanks to her father, she became familiar with the political situation and the problems faced by Serbs in Hungary. It would seem that Svetozar Miletić had high expectations of his daughter, for there are records that he dressed her up as a boy and called her Miloš. Traveling with her father, she met most of his associates. When Miletić was arrested and incarcerated for the second time (1876–1879), Milica assumed some of his duties, the editorship of Zastava, among other things. She was not even twenty when she started publishing political texts in this magazine.
Upon his release from prison, Svetozar Miletić fell ill. In time, his associates started abandoning him. Milica Tomić needed a new editor, and on January 2, 1885, a politician of the radical party, Jaša Tomić, took over the magazine Zastava. Bearing in mind the fact that Jaša married Milica the same year and took over Zastava, their marriage was regarded variably, often as one concluded out of interest. However, its longevity, together with the dedicated effort of both spouses to solve many political and cultural problems, provides sufficient reason to claim otherwise. The marriage is linked to a political scandal whose main actors were Jaša Tomić and Miša Dimitrijević, the owner and editor of Branik (The Bulwark), a herald of the Liberal party. In an effort to bring down Jaša Tomić, his political opponent, Miša Dimitrijević used Milica as a target, not only attacking her ideas and attitudes but compromising her honor by publicizing a love letter she wrote before her marriage. The scandal ended in murder. On January 5, 1890, at a train station in Novi Sad, Jaša Tomić stabbed Miša Dimitrijević to death. For this, he spent six years in prison.
After the wedding in 1885, Milica dedicated herself to women's issues. She had great support from none other than her husband Jaša Tomić, who advocated economic, political, cultural and every other kind of equality between men and women. He wrote many papers on the subject of women's rights and their emancipation.
Milica worked diligently with the organization on the enlightenment of women. Her work was dual in nature: not only did she publish works on the subject of women's rights, education and emancipation, but she worked on the enlightenment of women through direct contact, under the auspices of various organizations and associations.
1881: She was hired to work for the Charitable Cooperative of Serbian Women of Novi Sad.
1886: Publication of the essay "Nekoji 'prijatelji' Miletićevi u obranu" ("Certain 'Friends' of Miletić to His Defense")
1886: Publication of the article "Izvrtanje nije - svetlost: (odgovor g. M. Dimitrijeviću)" ("Distortion is not – light: (a response to Mr. M. Dimitrijević)")
1905: Milica plays a pivotal role in founding the organization known as Poselo Srpkinja ("poselo" being a term commonly used in small towns and villages for an informal party or gathering)
1910 Poselo Srpkinja evolved into  Posestrima – a reading room for women, founded by Milica. Posestrima was meant to be a place where women of Novi Sad could gather in order to receive education and perform community work. The members of this foundation succeeded in founding a library, as well as organizing classes for those female members who didn't know how to read or write. Danica Tomić was the first teacher, and Ljubica Jerković was the first president of  Posestrima. During winter, the members of Posestrima organized Women's Villages in the rural communities near Novi Sad. These manifestations consisted of various activities, including lectures, reading and singing classes. It is therefore obvious that Milica Tomić, along with some of her associates, considered the education of women from rural areas a matter of great importance, if not the main goal and purpose of women's organizations. In this way, she signalized the need for solidarity between women belonging to different classes of a Serbian society in Voivodina. The Serbian reading room for women, Posestrima, had its charitable organization, that is, a fund used to help its members financially. They mostly spent its resources on helping the sick and the poor.
1914: Posestrima and its activities were terminated by the Hungarian government.
1918: Posestrima reading room resumed its work. Already next year its membership increased, amounting to about 300 women. The association became part of the National Women's League of The Kingdom of Serbs, Croats and Slovenes.  
1911: Milica founded and edited a women's journal Žena (The Woman), and an eponymous calendar. The magazine was issued monthly, on a regular basis in the period between 1911 and 1921, with hiatuses during the war years, in 1915, 1916 and 1917. It was established with the intention of dealing with "all the issues pertaining to a woman's life and her vocation".
Milica cooperated with Rozika, Rosa Schwimmer (1877–1948), a prominent Hungarian feminist and suffragette. This cooperation is evidenced by their correspondence published in one of the issues of Žena.
In addition to six other women, Milica took part in the activities of the Grand National Parliament in Novi Sad at the time when women gained the right to vote in this Parliament. This right was abolished shortly after the formation of the Kingdom of Yugoslavia.
1922: After the death of Jaša Tomić, Milica retired from public life.
Edited by Ana Kolarić
Translated by Dunja Dušanić
| | |
| --- | --- |
| Profession(s) and other activities | editor of periodical press |
| Financial aspects of her career | Invested/lost her own money |
Works by this author
Monographs
Articles and other similar texts
Serial publications
Reception
Reception during lifetime
Reception after death
Authors read by this author
* Only authors in Knjiženstvo DB are shown