Milica Nemanjić Hrebeljanović
1335–1405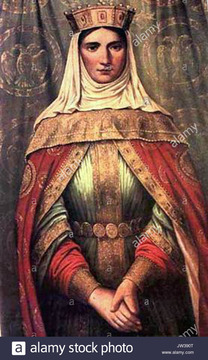 | | |
| --- | --- |
| Spouse | knez Lazar Hrebeljanović |
| Other names | kneginja/carica Milica, prepodobna Eugenija, Efrosinija |
| Date of birth | 1335 |
| Date of death | 1405 |
| Web address | |
Personal situation
Around 1355 - Coming from the sacred Nemanjić family, Milica was born as a daughter of Vratko Nemanjić, a descendant of Vukan Nemanjić, also known as the wife of prince Lazar, a princess, ruler, medieval woman author, and Orthodox holy woman. Princess Milica, or empress Milica, as she was termed in Serbian oral national poetry, is, in the epic poem "Car Lazar i carica Milica" ("Emperor Lazar and Empress Milica"), referred to as the daughter of Jug-Bogdan, an unidentified person in historiography and well-known in Serbian epic poetry as the father of the famous nine Jugović brothers.
Around 1353 - she marries prince Lazar Hrebeljanović. They had five daughters - Mara, Dragana, Jela (Jelena), Teodora, and Olivera - as well as three sons - Stefan, Vuk, and Dobrivoje. Dobrivoje died as a child.
1389 - After prince Lazar's death in Kosovo, princess Milica, the widow of the "Holy Prince", assumes authority over the Serbian state given that the political system, having been built from 1371, was seriously undermined, and that, according to the principle of primogeniture, her eldest son Stefan was a boy who was still unable to rule on his own. It was not unprecedented for a woman to rule the council and the state on behalf of her minor son. In order to establish a vassal-master relationship with the Turks, princess Milica, having given up Lazar's policy of opposition, decides along with the council to send her daughter Olivera to the Ottoman court, to the harem of sultan Bayezid I. Dramatic ecclesiastic events were no less turbulent than the political ones because, less than two months after the Battle of Kosovo, patriarch Spiridon, leader of the Serbian Church who had given enormous support to prince Lazar and helped him rise above the Serbian lords, died. The Dubrovnik sources tell of the invidious material position of princess Milica and her children. Although in terms of foreign policy she had to sacrifice herself a lot, princess Milica continued with the strategy of reliance on the ideological and cultural heritage of the Nemanjić dynasty. Camblak stresses her great wisdom in negotiations with sultan Bayezid about obtaining permission for the relocation of St. Petka's holy relics from Vidin to Serbia.
1393 - After her son Stefan Lazarević ascended to the throne, she became a nun and took the name of Eugenia. Shortly before her death, she took the Special Vow of Great Schema and got a new name - Ephrosinia. However, even in spite of Milica's turning a nun and Stefan's ascension to the throne, Milica is still mentioned in charters and epistles together with her sons and with all the prerogatives of a ruler.
1398 - Although already a nun called Eugenia, she nevertheless goes to visit Bayezid in order to justify her son Stefan for suppressing a conspiracy organized by the noblemen and being accused of cooperating with Hungarians in relation to the Turkish invasion of Bosnia, which tells significantly of her diplomatic abilities. 
1405 - She dies in her monastic foundation, the monastery of Ljubostinja, in the vicinity of Trstenik, where she is also interred. Until her death, she kept the status of a co-ruler.
| | |
| --- | --- |
| Place(s) of residence | Serbia |
| Place of death | Manastir Ljubostinja, Prnjavor |
| Nationality | Serbian |
| First language(s) | Serbian |
| Marital status | Married |
| Number of children | 7 |
| Name(s) of children | Vuk, Stefan, Jelena, Mara, Olivera, Teodora, Dragana |
| Gender of children | 2(M), 5(F) |
| Social class | Royalty |
| Education | Convent education |
| Religion | Eastern orthodox |
Professional situation
To contemporaries a "manly woman" who in difficult times had to accept "manly supervision" of the family and the state, princess Milica was remembered in historiographic sources and national tradition for her numerous roles. Legend has it that princess Milica was the daughter of Jug-Bogdan, the sister of nine Jugović brothers, and the sister-in-law of Banović Strahinja, which tells of how loved and deeply rooted her deeds and character of a sacrificed sister and daughter, devoted wife, and caring mother are in national tradition and outside of the medieval framework.
The life of princess Milica - nun Eugenia - and by that very fact her literary opus, can be divided into three periods: the first one ending with the Kosovo Battle of 1389, the second lasting until her becoming a nun, and the third lasting until the death of Ephrosinia as the keeper of the Vow of Great Scheme in 1405. From the first period, except for her name appearing in the intitulation of the 1381 charter to the Athos monastery of Lavra, princess Milica is almost not mentioned at all, remaining in the shadow of her husband. In the second period, after the Battle of Kosovo, Milica gains prominence as a politician and ruler. The influence and reputation of nun Eugenia are reflected through the Dubrovnik archive materials, but also through monastic donation charters. Before her death, she took the Vow of Great Schema, changing her name to Ephrosinia, which is also a rarity - for women rarely ever rose to such a high level of nunhood.
Princess Milica, and later on nun Eugenia, also showed a literary talent, as well as knowledge of Biblical theology and liturgical poetry, so that her writings "Molitva matere" ("A Mother's Prayer") and "Udovstvu mojemu Ženik" ("The Husband of My Widowhood") are an excerpt from Pohvala knezu Lazaru (Encomium of Prince Lazar, 1403), which was part of the anthology together with despot Stefan Lazarević's Slovo ljubve (Word of Love). No other copies of this encomium have been found, and the manuscript was incinerated in the National Library of Serbia fire of April 6, 1941.
The introduction of prayer as the charter's micro-genre makes it close to Stefan the First-Crowned, whereas the motifs of sofiology and eschatology make it close to other medieval writers such as Saint Sava and Domentian. She exhibited her literary gift as a writer of charters and individual diplomatic documents, among which especially prominent are the following three: the one to the monastery of Visoki Dečani - Povelja monahinje Jefimije Dečanima (Nun Eugenia's Charter to Dečani), and the ones to the Athos monasteries of Great Lavra and Saint Panteleimon which she signed along with her sons. Unlike hagiographies, prayer as a subgenre in charters is not a common technique in medieval literature, but it is first found in Povelja manastiru Svete Bogorodice na Mljetu (A Charter to the Monastery of the Holy Mother of God on the island of Mljet) by Stefan the First-Crowned, whereas lyric prayers are found in the charters of nun Eugenia. Special attention is to be given to the skillfully incorporated psalm motifs as a result of her reception of liturgical poetry. In the charter that princess Milica as nun Eugenia issued to the monastery of Saint Panteleimon in 1395, prince Lazar is for the first time mentioned with the epithet "holy". The Charter of Dečani from 1397 was written on parchment,  it is part of the third-version book of Stefan Uroš III's Dečani Hrysobulls, signed by Stefan Dušan, and it has not been preserved in its entirety.
The face of princess Milica was painted in the monasteries of Ravanica, Ljubostinja, Dobrun, and Orahovica, and the Serbian Orthodox Church celebrates her on August 1/July 19 along with her son, despot Stefan.
Sources:
Mišić, Siniša, Ječmenica, Dejan, ur. Kneginja Milica - monahinja Jevgenija i njeno doba: tematski zbornik: radovi sa naučnog simpozijuma održanog 12. septembra 2014. u Manastiru Ljubostinja. Trstenik: Narodni univerzitet Trstenik, 2014.
Projekat Rastko, dostupno na: https://www.rastko.rs/istorija/spisi_o_kosovu.html
Stevanović, Miladin. Kneginja Milica Hrebeljanović. Beograd: Knjiga-komerc, 2005. 
Hawkesworth, Celia. Voices in the Shadows: Women and Verbal Art in Serbia and Bosnia. New York: Central European University Press, 2000.
Wikipedia, dostupno na: https://en.wikipedia.org/wiki/Princess_Milica_of_Serbia
Data collected and author edited by Marija Bulatović
Translated by Goran Petrović
| | |
| --- | --- |
| Profession(s) and other activities | author of religious literature |
| Language(s) in which she wrote | Serbian |
Works by this author
Articles and other similar texts
Authors read by this author
* Only authors in Knjiženstvo DB are shown