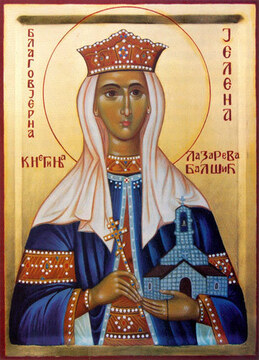 | | |
| --- | --- |
| Spouse | Đurađ Balšić, Sandalj Hranić |
| Date of birth | 1366 |
| Date of death | 1433 |
| Web address | |
Personal situation
She came from a royal family. Her father was Prince Lazar Hrebeljanović and her mother Princess Milica, a descendant of the Nemanjić sovereign dynasty which ruled Serbia from the second half of the twelfth century until the 1370s.  She was born as the third daughter into the family of seven siblings somewhere between 1366 and 1371. She had four sisters: Mara, Dragana, Teodora and Olivera, along with two brothers: Vuk and Despot Stefan Lazarević, the succeeding ruler of Serbia. It is believed that Jelena received excellent education at her father's court in Kruševac, the former capital of Lazar's state. Her development was greatly influenced by nun Jefimija, Milica's cousin, who used to live with them.
In 1386 or 1387, Jelena married Đurađ Stracimirović Balšić, lord of Zeta. She gave him a single son, Balša the Third. Following the death of Đurađ in 1403, she took over the throne and governed the country, thus entering into the ranks of Serbian women monarchs such as Helen of Anjou, Empress Jelena, and Princess Milica. The reign of Jelena Balšić was marked by wars against the Venetian Republic (1405–1409), caused by her ambition to regain the cities of Skadar and Drivast, which Đurađ had yielded to the Venetians.
She remarried to Sandalj Hranić in 1411, who was a Bosnian Duke, one of the most prominent lords of the Bosnian state and certainly the most powerful neighbor to the Venetian Republic. The marriage lasted until 1435, when Sandalj Hranić died. Previous to his death, in 1421, she had lost her son, Balša. She retired into the seclusion of the island Gorica (also known as Brezovica, Beška) on Lake Skadar. There she had a monastery built where she spent her final years (1435–1443). She dedicated the remaining days of her life to pious studying of religious texts. She died at the beginning of 1443. She was buried in the monastery which she left as her legacy.
| | |
| --- | --- |
| Place of birth | Prilepac |
| Place(s) of residence | Montenegro and Serbia |
| Place of death | Ostrvo Gorica, Brezovica, Beška u Skadarskom jezeru |
| Nationality | Serbian |
| First language(s) | Serbian |
| Marital status | widowed |
| Number of children | 1 |
| Name(s) of children | Balša |
| Gender of children | M |
| Social class | Aristocracy by birth |
| Education | Educated at home |
| Religion | Eastern orthodox |
Professional situation
Jelena Balšić deserves a place in the history of literature due to her correspondence with Nikon of Jerusalem. It was preserved and kept in Gorički zbornik (Gorica Manuscript) from 1441/42. The manuscript is, in fact, a collection of texts, assembled according to Jelena's request and named after her monastery on Lake Skadar. It holds considerable importance for it is the sole known proof of her literary aptitudes. Additionally, its significance lies in the fact that it is the most important body of literary works from medieval Zeta and it testifies to the presence and strengthening of Byzantine spirituality in this region.
Edited by Svetlana Tomin
Translated by Dunja Dušanić
| | |
| --- | --- |
| Profession(s) and other activities | politician, cultural and educational patron, and author of compilations and anthologies |
| Language(s) in which she wrote | Serbian |
| Financial aspects of her career | Other income |
Works by this author
Monographs
Articles and other similar texts
Authors read by this author
* Only authors in Knjiženstvo DB are shown