Eustahija Arsić
1776–1843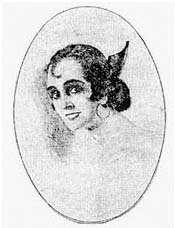 | | |
| --- | --- |
| Spouse | Sava Arsić |
| Date of birth | 1776 |
| Date of death | February 17, 1843 |
| Web address | |
Personal situation
She was the first Serbian woman writer after Jefimija and the first woman from Serbia to publish her own work. She was born into the family Cincić from Irig on March 14, 1776 and died in Arad on February 17, 1843.  Not much is known of her education, although she is presumed to have been knowledgeable. She read authors such as Rajić, Dositej Obradović, Stojković, Kengelc, and Julinac. Only after her marriage to Sava Arsić, a nobleman, long-term senator and head councilman of Arad, did she begin her literary career.
| | |
| --- | --- |
| Place of birth | Irig |
| Place of death | Arad |
| Marital status | Married |
Professional situation
Her first piece of writing, Sovet maternji (Motherly Advice), was printed anonymously in 1814 and dedicated to Uroš Nestorović. In this book, Eustahija Arsić asserts her voice as a propagator of eighteenth-century ideas of the Enlightenment period and advocates the necessity of female education. She printed separately only one more piece of writing:  Poleznaja razmišlenju o četireh godišnih vremeneh, s osobennim pribavlenijem o trudoljubin čeloveka, i otudu prishodešćej vseobšćej polze (Useful Thoughts on the Four Seasons with a Special Inquiry into Man's Diligence, and the Greater Good Which Comes from It).
Translated by Dunja Dušanić
| | |
| --- | --- |
| Profession(s) and other activities | fiction writer/novelist |
Works by this author
Authors read by this author
* Only authors in Knjiženstvo DB are shown