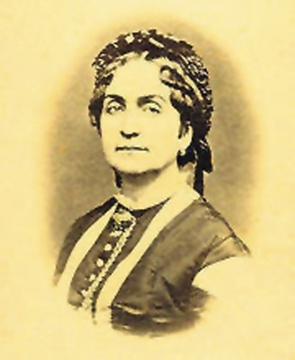 | | |
| --- | --- |
| Spouse | Aleksandar Konstantinović |
| Date of birth | March 20, 1821 |
| Date of death | May 29, 1868 |
| Web address | |
Personal situation
Anka Obrenović, daughter of master Jevrem Obrenović and niece of Miloš Obrenović, Prince of Serbia, was born in Šabac in 1821. Her mother, Tomanija, was the daughter of Ante Bogićević. Anka had eight brothers and sisters. Her father provided her with excellent education, the best that circumstances in Serbia at the time would allow. She learnt how to play the guitar and the piano, studied German and later on French. On April 26, 1842, Anka married a landowner, Aleksandar Konstantinović, with whom she had four children (one of them being Katarina, the fiancée and never-to-be second wife of Prince Mihailo). Her free-spirited lifestyle became all-too-evident after the death of her husband when she gave birth to a love child, a girl named Simka, whose father was Anka's very own brother-in-law. Her moving to Belgrade in 1859 and grand entrance into the political and dynastical games of the Obrenović would eventually take her life: she was killed in Košutnjak along with her cousin Mihailo Obrenović on May 29, 1868. She didn't live to see Milan Obrenović, the grandson of her brother Miloš, become the king of Serbia. She was buried in the monastery of Rakovica near Belgrade, along with the rest of the Obrenović family members.
| | |
| --- | --- |
| Place of birth | Šabac |
| Place(s) of residence | Serbia |
| Place of death | Beograd |
| Nationality | Serbian |
| First language(s) | Serbian |
| Marital status | widowed |
| Number of children | 5 |
| Name(s) of children | Tomanija, Aleksandar, Katarina, Stana, Simona |
| Gender of children | F (4) M (1) |
| Social class | Aristocracy by birth |
| Education | Educated at home |
Professional situation
Anka's literary ambitions were visible in her early youth through many translations published in leading periodicals of the time. She translated educational stories from German, which she herself selected. Her first published book of translations of 14 stories from German was called Naravoučitelne povesti (Educational Stories) and was published in Belgrade in 1836. In 1836, she started writing Dnevnik (Journal), which she will write for almost two years. However, her journal will see the light of day 170 years later, in 2007.
She was known as one of the first women authors, and even Milica Stojadinović Srpskinja mentions her in that context in her Dnevnik u Fruškoj gori 1854 (Journal in Fruška Gora 1854).
Written by Slavica Garonja Radovanac
Bibliography by Dragana Grujić and Gordana Đoković
Translated by Dunja Dušanić
| | |
| --- | --- |
| Profession(s) and other activities | translator and fiction writer/novelist |
| Language(s) in which she wrote | Serbian |
| Financial aspects of her career | Other |
Works by this author
Monographs
Articles and other similar texts
Reception
Reception during lifetime
Reception after death
Authors read by this author
* Only authors in Knjiženstvo DB are shown