Natalija Petrović Karavelova
1836–1905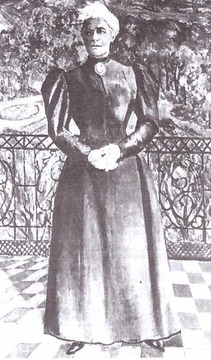 | | |
| --- | --- |
| Spouse | Ljuben Karavelov |
| Date of birth | April 27, 1836 |
| Date of death | July 07, 1905 |
Personal situation
Natalija Petrović Karavelova was born near Veliko Gradište in Makce in 1836. Her father, Nedeljko Petrović, was a priest, and her brother, Nastas Petrović (1844-1889), was a professor in the Higher School and a prominent figure in the cultural and political life of the country. He and his older sister Natalija were quite socially active.
In 1868, she married a Bulgarian writer, Ljuben Karavelov, who also wrote in Serbian. Natalija's husband was politically active. He is considered to have been one of the founders of Serbian critical realism. He was often arrested and persecuted on account of his ideas. Natalija showed great support to her husband both in his literary work and in his political acts.
After Karavelov's death, she remarried to Aksentije Aksentijević. The Natalija LJ. Karavelova and Aksentije Aksentijević Fund was active until the Second World War.
She died on July 7, 1905 in Karlovy Vary.
| | |
| --- | --- |
| Place of birth | Makce |
| Place(s) of residence | Bulgaria and Serbia |
| Place of death | Karlove Vari |
| Nationality | Serbian |
| Marital status | Married |
| Social class | Upper class |
Professional situation
Natalija Petrović Karavelova helped her husband in his literary and political work. She participated in printing newspapers. Not rarely did she expose herself to great danger in order to help her husband with his political activities. Namely, she transported his writings, money and arms intended for rebels.
She was greatly esteemed in the free state of Bulgaria, where she opened the first printing house in 1880, one year after her husband's death.
She lived in Ruščuk, Bulgaria where she helped numerous Serbian and Bulgarian intellectuals and political emigrants, including Nikola Pašić. She was a collaborator in numerous Slavic societies. However, because she helped the opponents of the regime, the Bulgarian authorities confiscated a large part of her property, so she moved to Belgrade in 1890. Nevertheless, that did not end her political activism.
She strove to have the writings of her husband published, so she and Z. Stojanova edited the works of Ljuben Karavelov. She also donated money for the monument in Sophia in honour of her husband.
She also aided young authors. She helped her nephew Milan Petrović, the son of her brother Gligorije Petrović to publish in 1889 his Russian translation of the book Stara Srbija i Makedonija (Old Serbia and Macedonia) by Spiridon Gončević.
She published one piece of work entitled Radi objašnjenja (To Clarify).
Source:
Joksimović, Veliša. Književnost požarevačkog kraja: od Gligorija Sinaita Mlađeg do Srboljuba Mitića. Požarevac: Grad Požarevac, 2014, pp. 173-175.
Edited by Milica Đuričić
| | |
| --- | --- |
| Profession(s) and other activities | social-cultural activist and cultural and educational patron |
Reception
Reception after death
Authors read by this author
* Only authors in Knjiženstvo DB are shown