Lujza St. Jakšić
1860–1942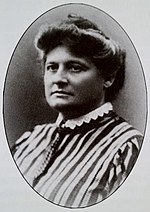 | | |
| --- | --- |
| Spouse | Svetolik Jakšić |
| Other names | Jelisaveta Ela Bernik, Alisa Teper |
| Date of birth | 1860 |
| Date of death | 1942 |
| Web address | |
Personal situation
A friend of Jelena Dimitrijević's to whom this writer addressed her Pisma iz Soluna (Letters from Salonika).
She was born as Jelisaveta Ela Bernik. She went to school in Berlin, where she married a Swedish man. She lived in Berlin under the name Alisa Teper. After her husband's death, she inherited a lot of property and capital. It was in Berlin where she met Svetolik Jakšić, a diplomat and a publicist. They got married in Vienna in 1899. She changed her name to Lujza then. 
| | |
| --- | --- |
| Place of birth | Berlin |
| Place(s) of residence | Serbia |
| Place of death | Beograd |
| Nationality | Luzhitsky Serb |
| First language(s) | English and Serbian |
| Marital status | Married |
Professional situation
After coming to Belgrade, she became a teacher of French and English at the Higher School for Girls in Belgrade. For the needs of the school, she wrote the first grammar book of the Enligsh language in Serbian, Engleska gramatika za učenice Više ženske škole (English Grammar Book for Students of the Higher School for Girls). With the money, she helped her husband start the daily newspaper Štampa (The Press). 
Literature: 
Kosara Cvetković, Pedesetogodišnjica Više ženske škole u Beogradu (1863-1913), Beograd 1913; Nenad Tomović, Prva gramatika engleskog jezika u Srbiji, Psihologija, 2005, br.3; Milan Jovanović Stojimirović, Siluete Starog Beograda , Beograd 2008.
Source: 
Srpski biografski rečnik, ur. Čedomir Popov, Matica Srpska, Novi Sad, 2004. 
| | |
| --- | --- |
| Profession(s) and other activities | teacher/governess |
| Language(s) in which she wrote | English and Serbian |
| Financial aspects of her career | Salary |
Works by this author
Monographs
Reception
Reception after death
Authors read by this author
* Only authors in Knjiženstvo DB are shown