Leposava Mijušković
1882–1910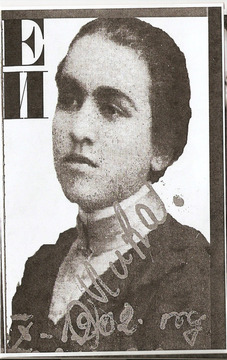 | | |
| --- | --- |
| Pseudonyms | L.M. |
| Date of birth | 1882 |
| Date of death | March 26, 1910 |
| Web address | |
Personal situation
She was born in the Serbian town of Jagodina. She went to the Higher School in Belgrade, and then received her education in Zurich. She was a socialist and a very educated woman for that time. She collaborated with several women's magazines. She worked as a teacher. She died early, under mysterious circumstances.
| | |
| --- | --- |
| Place of birth | Jagodina |
| Education | University education |
Professional situation
She wrote short stories and published them in an influential Serbian magazine from the beginning of the 20th century - Srpski književni glasnik (The Serbian Literary Herald). Jovan Skerlić, a renowned critic of that time, wrote very commendably about her. In these stories, Leposava wrote about topics which were very unusual at the time, like: homosexuality, self-destruction, suicide, free love, and rebellious intellectual women. She used modern literary techniques, too, such as automatic writing and fragmentation. She was forgotten soon after her death and remained in oblivion up until the end of the 20th century, when her stories were rediscovered in literary magazines, and collected to be published in a book.
Edited by Jelena Milinković and Višnja Krstić
| | |
| --- | --- |
| Profession(s) and other activities | fiction writer/novelist |
Works by this author
Monographs
Articles and other similar texts
Reception
Reception during lifetime
Reception after death
Authors read by this author
* Only authors in Knjiženstvo DB are shown