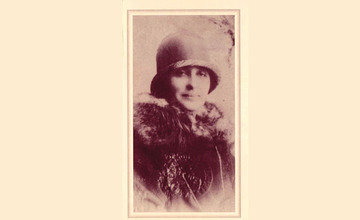 | | |
| --- | --- |
| Spouse | Ivan Ivanić |
| Date of birth | March 06, 1881 |
| Date of death | August 12, 1972 |
| Journals | |
| Web address | |
Personal situation
Delfa Ivanić came from the notable family of Ivan Musić, a Herzegovinian revolutionary fighter for national liberation. She was born in 1881 in Podgorica, where her father was, for a while, in the service of Prince Nikola. Having left the Prince's court, the family moved to Belgrade. Shortly afterwards, Delfa lost both her parents, and was adopted by Katarina Konstantinović (the daughter of Anka Obrenović and would-be-wife of Prince Mihailo) and Mihailo Bogićević (the grandson of Anta Bogićević, a Duke from the First Serbian Uprising), thus entering, by chance, into the highest ranks of Serbian society of her time.
Delfa was also part of the first generation of young women who received regular public education in Serbia. She graduated from the Serbian Higher School for Girls in 1897, where she became acquainted with the famous painter Nadežda Petrović, who was, at the time, working there as a teacher of drawing. Their friendship will give rise to the idea of starting a humanitarian organization, Kolo srpskih sestara (The Circle of Serbian Sisters), a project to which Delfa would dedicate her life's work. Having left school, Delfa began to study chemistry at the University of Geneva (1897–1899), but had to end her studies abruptly due to the sudden death of her step-father.
As a qualified teacher, Delfa left for Skopje in 1900, where she would meet her life companion, Ivan Ivanić (1867–1935), a journalist and diplomatic representative of Serbia. The outbreak of World War II and the German invasion of Yugoslavia brought an end to her humanitarian activities, as well as the organization Kolo srpskih sestara. Delfa, a mature woman by then, was arrested by the Gestapo, only to be detained once again after the liberation in 1944, this time by the communist authorities, as an alleged "reactionary" against the new regime. She died in old age, in a nursing home in Belgrade.
| | |
| --- | --- |
| Place of birth | Podgorica |
| Place(s) of residence | Serbia |
| Place of death | Beograd |
| Nationality | Serbian |
| First language(s) | Serbian |
| Marital status | Married |
| Education | University education |
Professional situation
Having founded, together with Nadežda Petrović, Kolo srpskih sestara (The Circle of Serbian Sisters) in 1903, Delfa Ivanić dedicated herself completely to humanitarian work. This would become her permanent vocation.
Together with her husband, she edited the organization's bulletin, Vardar (The Vardar), an almanac which was issued once a year, in the period between 1906 and 1913, and again, from 1920 to 1940, adding up to 29 issues in total. This herald provided Delfa a space for publishing comemorative speeches as well as her personal memories of some of Kolo's associates, but also for educating women and organizing the struggle for women's rights. Actively participating in this struggle, she became, in 1911, the vice-president of the Women's League. Together with Katarina Milovuk, she fought to obtain voting rights and equal salary for women, but this struggle had little success.
Her organizational and diplomatic skills came to prominence during the Balkan Wars, as well as World War I. Having suffered, together with her husband, the retreat through Albania, Delfa travelled to Nice, Paris and eventually, London, where she would dedicate herself to organizing fund-raisers for Serbian soldiers and their families. It was thanks to this work perfomed by Kolo srpskih sestara during World War I, that humanitarian aid was provided for thousands of Serbian soldiers and civilians imprisoned in Austrian and Hungairan camps.
Delfa Ivanić published some thirty titles, including literary works, newspaper articles, memoirs and reviews. She worked for the following magazines and journals: Zora (Dawn), Bosanska vila (The Bosnian Fairy, 1905), Domaćica (The Housewife), Brankovo kolo (Branko's Circle), Zastava (The Flag, 1910), Vardar (1906–1913, 1937–1941), Preporod (The Renaissance, 1918–1926), Golub (The Pigeon), Žena i svet (Woman and the World, 1927–1936), Žena (The Woman, 1927–1936), Prosvetni pregled (Educational Review, 1927–1936), Ženski pokret (Women's Movement, 1918–1926), Veda (The Veda), Vreme (Time), Glasnik Jugoslovenskog ženskog saveza (The Herald of the Yugoslavian Women's Association), Revija (The Review), Glas rezervnih oficira i ratnika (The Voice of Reserve Officers and Soldiers). She was a member of the editorial staff of Ženski pokret (Women's Movement, 1921) and Almanah Jadranska straža (The Adriatic Watch Almanac, 1925).
| | |
| --- | --- |
| Profession(s) and other activities | editor of periodical press, humanitarian worker, social-cultural activist, contributor to periodical press, fiction writer/novelist, and teacher/governess |
| Financial aspects of her career | Other |
| Memberships | Of editorial boards |
Works by this author
Monographs
Articles and other similar texts
Translations
Authors read by this author
* Only authors in Knjiženstvo DB are shown
Digital Material
Files